Long live Ukraine!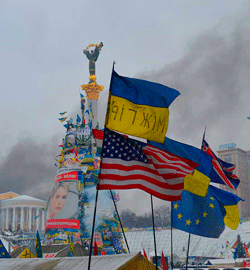 Dear friends!

You are invited to visit the open-air photo exhibition "The People of Maidan" and get marvelled by the world of new reality and fortitude of human spirit.

The international project – the open-air photo exhibition "The People of Maidan" – will be open in many capital cities. This is the best way for the world to get acquainted with the Ukrainian people of the 21st century.

Long live Ukraine!
Technical description of the exhibition
The photo holders are made of strong waterproof materials resistant to direct sunlight and are placed on tyres which are a symbol of Maidan. The resulting construction is stable and resistant to wind gusts when held in the open air.
The exposition consists of 30 to 50 double-faced stands 40'x35' (100x90 cm). In this way up to 100 panoramic photos are displayed.
The area required for the exhibition is from 100 to 200 sq. metres.
All the photos are accompanied by texts in English and in the language of a country where the exhibition is held.
Each stand has free space reserved for our sponsors' advertising.
Each exhibition comes with booklets for distribution and photo albums "The People of Maidan" for sale.

An attraction of the exhibition is the large format panoramic photograph "Euromaidan" with 1 billion pixel resolution, showing more than 500 thousand people who gathered for a Veche in Kiev.
Donations
The project is funded by donations of the people who realize the role of art in calling for struggle for democracy and prosperity against tyranny and evil. It helps nations as well as governments and businesses to look beyond the common goals of wealth and profits. The name of each helper – either a big company or a private person – will definitely be listed in the website as well as on posters, placards, in the exhibition booklets and photo album "The People of Maidan".
Organizers
Dr. Sergey Melnikoff aka MFF, USA
Stan Petrof, MSc, United Kingdom